Happy Holidays Everyone! I hope everyone is having a great time with their families and loved ones . Around this time everyone wants to do their favorite albums and year end lists. My criteria for this list is personal enjoyment and replay value . Don't come at me in the stereotypical "this list isn't real hiphop and you don't know rap. Real rap is spiritual individual miracle lyrical blah blah blah ". Go debate a brick wall but without further adue
20.Joey BadA$$ B4DA$$
Joseph had a great debut album the production was crisp and his rhymes were on point . And I feel as though he is expanding his sound and not just sticking to that 90's nostalgic sound he was sticking with . If Joey keeps evolving and growing he can become a true contender for best artist in the game
19. Rae Sremmurd. Sremmlife
Rae Sremmurds debut album was full of great songs and explosive beats via Mike Will Made It. Some recent controversy with complex and Ebro from Hot 97 made me go back and listen and this is also one of my favorite albums that I Still play to this day. I feel as though it was kinda overlooked because it released so early in the year and leaked even earlier. But all in all it is a very fun record that anyone can enjoy . I'm personally excited for the group and where they are headed as artist .
18. Young thug Barter 6
Young thug is one of the most how should I say it ….interesting artist to come out in recent history . While some of his antics can be very different. He has made some of the most catchy bangers this year and this album or mixtape or whatever you want to call it . Was a very solid project and had hits that made it very fun to listen to.
17. Smino Sick!xSick!xSick!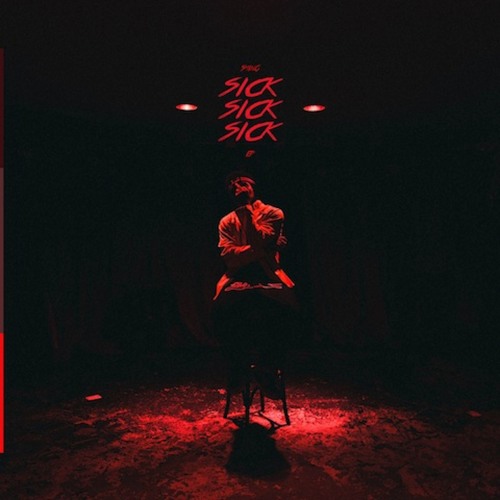 Smino is a up and comer from St. Louis who recorded this project in Chicago . Shoutout to My homie Jaleel for putting me on to him earlier this year . Sminos wordplay and style is second to none and he mixes the singing and rapping style effortlessly and smino can rap his ass off. He recently released Blk Jupiter , smino is my favorite newcomer and I can not wait for him to blow up .
16.Big Sean Dark Sky Paradise
Big Sean has had trouble making good albums since he first come to the rap game. Sean has always had classic mixtapes, but when it came time for a commercial album he would always fall flat. But this time around Sean really buckled down and made a good project that was listenable and had replay value . I hope he can keep this up and keep releasing dope music
15.A$AP Rocky AT.LONG.LAST.A$AP
It has been quite the year for rocky as he released his third project . After a slew of singles that created mass excitement for the masses . Rocky released a great album that is varied but still cohesive and enjoyable . After the death of Yams people were wondering how he would cope and bounce back and he came back with one hell of a album .
14. Drake If You're Reading This Its Too Late
Aubrey from the 6 had quite the year if I do say so myself. He just dropped a project on us . And despite the sudden drop this entire album is enjoyable front to back and the anticipation for views from the six is getting greater and greater everyday .
13. Future Beast Mode
Part of futures infamous five-peat. Beast mode futures in his pocket giving us his style of rap over the unique keys by zaytoven. Future really had the best year this year. Dropping consequetively great projects this year. Last year future was on his was to irrelevancy and just came back a savage .
12. The Weeknd Beauty Behind the Madness
The Weeknd blew up in 2015 , with all this hype his album has been long awaited since the mediocre Kissland was released a few years ago . The croons and emotional ballads are impressive And abel's song crafting ability had improved even more this time around for one of the most enjoyable alternative r&b albums this year .
11.Drake & Future What A Time To Be Alive
Drake and Futures album was very hyped up . Two of the biggest figures in rap team up to give us project . And while it was a bit overhyped I did enjoy the album and it was a fun album to listen to .
10. Action Bronson Mr. Wonderful
Action Bronson is another very interesting character in the rap game . He broke in the game giving people a consistent slew of mixtapes and free albums for people to enjoy . When his album was released I didn't know what to expect and what I got was one of the most interesting , funniest , most enjoyable albums this year .
9.Earl SweatShirt I Don't Like Shit I Don't Go Outside
Earl Sweatshirt has always been hit or miss with me . I feel as though he is lyrically on of the best out but his song writing abilities need to improve. You can spit the most lyrical profound shit, but if you can't craft it into a interesting song , then none of that matters. But on this project earl sounded more aggressive and interesting and his beat selection was top notch. This album is one of the best lyrical album this year .
8. Mac Miller Good A:M
Mac Miller has been under the radar with music and when he announced a album was on the way I was beyond ecstatic. His last album was a classic to me and I still play front to back . With a great album to follow up Mac didn't disappoint and this album was a great and has Great replay value
8. Vince Staples Summertime 06′
Vince Staples is one of the most interesting voices in recent memory. His cold sense of humor is one to none and his lyrical ability is up there. Vince brought everything he had together to make summertime o6 and it is one of the best albums this year
7. Future 56 nights
Another one of Futures string of amazing projects . Future is in rare form has he spits bars over amazing production from DJ Esco. This was a very sensational album. To say the least .
6. The Game The Documentary 2/2.5
The game did a very bold thing and released not just one but two albums . This had me worried as I thought it would be just throw away tracks but the game really hit home and buckled down and gave us a great album . From the hard hitting lyrics to the booming production . He got some of the best features for this album . Both of these projects were phenomenal.
5. Jay Rock 90059
The long awaited album from the watts spitter, finally came out . It's been long awaited and highly anticipated . Jay Rock trades bar with the best in the game on this short but sweet project . And hopefully we get more projects like this in the future. And more TDE releases like this in the future .
4. Future DS2
Once again future is on the list . DS2 was another future project full of ballads and trap symphony's. Giving you a look into the trap world that he lives in. While future isn't the most lyrical he knows how to craft a song and make you sing along and want more . This album is full of catchy hooks and contagious lyrics and future shows out of this project, from start to finish .
3.Logic The incredible true story
Logics sophomore effort was truly a masterpiece . It's crazy that only a year ago he released his debut album. Which I also think is a classic. But the way logic Crafted this project , the production to the improvement of his lyrics . To finding his own sound and elevating that and telling a story. His story telling and his flow are all top notch and stellar. Making this on of the best albums this year
2. Travis Scott RODEO
Kanye West Protege has been garnering a lot of buzz ever since he signed to G.O.O.D. Music providing production and lyrics to the camps compilation and many other projects. But when time came for Scott to release his commercial debut he got many different artist and producers help him craft rodeo. Rodeo mixes and bends genres and the punk energy makes it edgy and hardhitting. It is underrated in my opinion and Scott has a long way to go but if he stays on the path he's on now he is destined for greatness
1. Pusha T Darkest before Dawn :The prelude
Pusha T is a legend that doesn't get enough credit for what he does . His work with the clipse is amazing . The group broke up and he decided to go solo, after many guest verses and ep's and mixtapes his second solo effort darkest before dawn. This is his best album to me . From the hard hitting beats from timbal and to the hard gritty street lyrics from push. I enjoyed this album from beginning to end .
This is just my personal list of my favorite albums this year. This is just my opinion. I encourage people to make their own list and have a conversation . No one is wrong in these list , my opinion on music isn't the end all be all and neither is yours. Have a happy holidays a happy new year , God Bless
NE